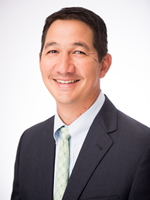 Specialty:
Otorhinolaryngology (ENT)
Address:
85 Seymour St
Ste 318
Hartford, CT 06106
Dr. Kuwada earned his medical degree from the University of Connecticut School of Medicine where he then completed his residency in otolaryngology/head and neck surgery. After his residency, he completed a fellowship in head and neck oncologic surgery, skull base surgery and microvascular reconstruction at Vanderbilt University Medical Center.
Dr. Kuwada is the co-director of the Head and Neck Cancer Program at Hartford Hospital's Helen & Harry Gray Cancer Center. His clinical focus is caring for patients with benign and malignant tumors of the head and neck, including the thyroid and parathyroid glands. This includes open and endoscopic techniques as well as major reconstructive surgery of the head and neck.
Dr. Kuwada was raised in West Hartford and attended Conard High School. He is thrilled about the opportunity to help serve the Greater Hartford community. Having completed his fellowship in head and neck surgical oncology, he is dedicated to helping care for patients with head and neck cancer.