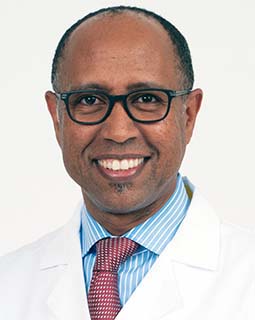 Specialty:
Otorhinolaryngology (ENT)
Address:
599 Farmington Ave
Suite 101
Farmington, CT 06032
Dr. Belachew Tessema received his medical degree from the University of Connecticut School of Medicine. He served as an intern in general surgery at Beth Israel Medical Center, New York; a resident in otolaryngology, head and neck surgery at the New York Eye and Ear Infirmary; and a fellow in rhinology, advanced sinus and endoscopic skull base surgery at the University of Miami/Miller School of Medicine.
A diplomate of the American Academy of Otolaryngology and Head and Neck Surgery, Dr. Tessema is a member of the North American Skull Base Society, the American Academy of Otolaryngology – Head and Neck Surgery, American Rhinologic Society and American Academy of Facial Plastic and Reconstructive Surgery.
He is a board member of ProHealth Physicians, an accomplished jazz base guitar player and a proud father of two boys.