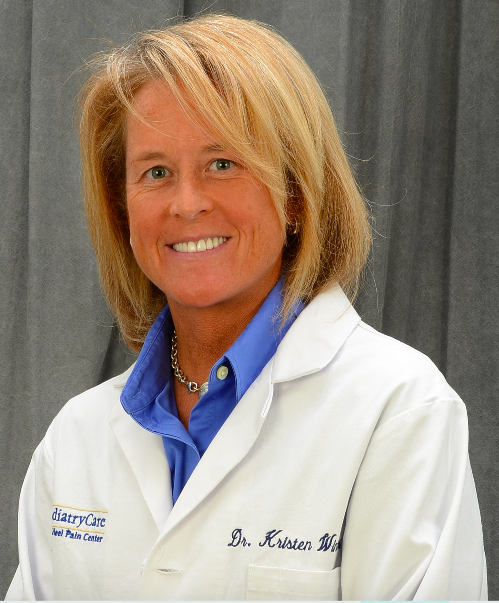 Address:
1379 Enfield St
Enfield, CT 06082
Dr. Kristen Winters has been practicing in Connecticut since 2000 following the completion of a two year surgical residency at The Saint Francis Hospital and Medical Center in Hartford, CT. Now she is an attending there and is dedicated to training podiatric surgical residents and students in foot and ankle surgery.
She has a special interest in podiatric sports medicine as her athletic background is extensive. Her involvement as a division one college athlete at The Pennsylvania State University, member of the U-21 United States national field hockey team and assistant coach of the Penn State women's field hockey team has naturally led her to now treat and rehabilitate athletes.
Dr. Winters maintains active involvement with the Connecticut Podiatric Medical Association, has served on the executive board of the Johnson Surgical Center and enjoys lecturing throughout the podiatric medical community.
American Board of Foot and Ankle Surgery
Areas of Specialization
Complicated Forefoot Surgery
Flatfoot Surgery
Pediatric Surgery
Orthotics and Biomechanics
Sports Medicine
Diagnostic Ultrasound
Ultrasound guided cortisone injections
PRESENT & PREVIOUSLY HELD PRIVILEGES
Active Staff Privileges Saint Francis Hospital, Hartford, CT, 2002-present
Active Staff Privileges Johnson Memorial Hospital, Stafford Springs, CT, 2002 – present
Courtesy Staff Privileges Manchester Memorial Hospital / ECHN, Manchester, CT 2009 – 2013
Active Staff Privileges Hartford Hospital, Hartford, CT, 2000-2002 and 2009 – 2016
Associate Staff Privileges UCONN Health Center / John Dempsey Hospital, Farmington, CT , 2000 – 2002
RESIDENCY
1998 – 2000 Saint Francis Hospital & Medical Center- Hartford, CT
PGY-II Podiatric Surgical Resident (PSR-24) at 1,000+ bed, Level 1 major teaching hospital
Served as Chief Surgical Resident
Trained extensively in all aspects of forefoot and rearfoot surgery with expertise in diabetic limb salvage, external fixation, and in-house patient management
Rotations completed in Internal Medicine, Pathology/Laboratory Medicine, General Surgery, Vascular Surgery, Anesthesiology, Medical Imaging, Plastic Surgery, Infectious Disease, Emergency Room/Trauma
Responsible for training over 50 podiatry and medicine externs
EDUCATION
1994 – 1998 Pennsylvania College of Podiatric Medicine – Philadelphia, PA
Doctor of Podiatric Medicine
Graduated #3 with honors in a class of 102 students
Pi Delta National Honor Society
Dean's Letter of Commendation, May 1998
Deans list – every semester
1987 – 1990 Pennsylvania State University – University Park, PA
Bachelor of Arts- General Arts and Sciences, Pre- Podiatric Medicine
Division One Field Hockey Team Member, 2 Seasons
U 21 National Field Hockey Team Member, 2 seasons
AWARDS & SCHOLARSHIPS
College Merit Academic Scholarship, Pennsylvania College of Podiatric Medicine – September, 1994
Lewis Gordon Memorial Pharmacology Scholarship, PCPM – May, 1998
Podiatric Orthopedics Scholarship, Pennsylvania College of Podiatric Medicine – May 1998
Earl G. Kaplan American College of Foot Surgeons Scholarship, PCPM – May, 1998
Who's Who Among Students in American Universities and Colleges, 63rd Edition – August,1998
Dean's Letter of Commendation, PCPM – May, 1998
PROFESSIONAL ACTIVITIES
Vice President, Connecticut Podiatric Medical Association 2018
Board Member, Connecticut Podiatric Medical Association, 2009 to present
Lecturer, Connecticut Podiatric Medical Association Meeting, Mohegan Sun, March 2009
Executive Board Member, Johnson Surgical Center, October 2005-2007
Department of Podiatric Surgery Attending – The Saint Francis Hospital and Medical Center, 2002 – present
Home and Health Community VNA Diabetic Advisory Board – September 2002- 2006
Lecturer, Pfizer Pharmaceuticals, 2004 to 2008
Lecturer, ACFAS Regional Complications Seminar – January, 2000
Annual Hartford Marathon, Podiatric Medical Volunteer – October, 1999
University of Hartford Men's & Women's Varsity Sports, Podiatry Screening & Consultation – September 1998 to present
Nutmeg Games (CT State Olympics), Medical Staff Volunteer – August, 1998
102nd & 103rd Annual Boston Marathon, Podiatric Medical Volunteer – April 1998, 1999, 2000
PROFESSIONAL MEMBERSHIPS
American Board of Foot and Ankle Surgery – Board Certified 2006 – Recertified 2016
Diplomate, The American Board of Foot and Ankle Surgery
American College of Foot and Ankle Surgeons, Member
American Podiatric Medical Association, Member
Connecticut Podiatric Medical Association, Vice President
Pi Delta Podiatry Honor Society
Stirling-Harford Honorary Anatomical Society, Vice-president
Advanced Cardiac Life Support (ACLS), certified